A LASTING LEGACY FOR THE PEOPLE OF KIMBERLEY
The Big HOLE
Kimberley Big Hole History
150 years ago, the site of the Big Hole was a featureless, flat-topped hill. When word spread that diamonds had been discovered, thousands of prospectors, armed with nothing more than picks, shovels and hope, descended on Kimberley and created the largest hand-dug excavation in the world.
Kimberly is one of the most unique and authentic historical destinations in South Africa, because of the Kimberley diamond mine, which occupies a surface of 17 hectares, 463 meters wide, for a depth of 240 meters, and it used to be active since 1871 to 1914. The Big Hole in Kimberley is considered for one of the deepest cavities excavated by man with a depth of 200 m2. Next to the Big Hole is the Kimberley Mine Museum, the first ever discovery of diamond reserves in the country. One of the most interesting facts about the Big Hole in Kimberley is that after the mining operations were finally over, the Big Hole become the most visited tourist attraction in Kimberley.
The Old Town brings the New Rush era to life, where the hopeful, the desperate and the determined flocked to the town of Kimberley to seek their fortunes.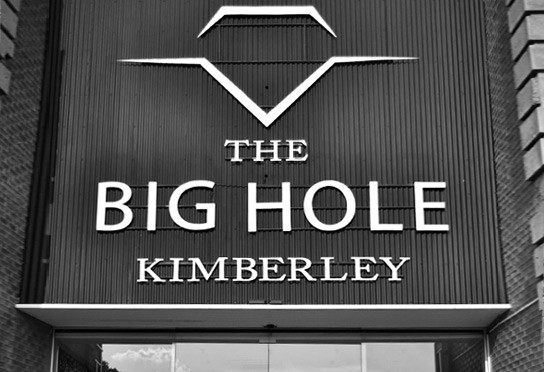 The Visitor Centre tells the multi-faceted story of diamonds, this includes the of the people that sought them, the tools they used and the wealth they generated.
In the Visitor Centre guest will have the opportunity to join a tour with a Site Guide.
The Big Hole Facility is wheelchair friendly
No Fire arm or pets are allowed on the premises
Qualified First Aid Staff on duty throughout the day
For Group booking call 053-830 4417 (20)
Read more
Tourist Attractions in Kimberley
Welcome to Kimberley, Northern Cape in the Republic of South Africa. The diamond-mining center of the south of the continent offers something for everybody. Whether you are into outdoor activities or a history buff there are many tourist attractions in Kimberley you can visit. The beautiful gardens and squares of the city are full with historical memorials. Hop over to the Alexander McGregor – Kimberley Mine Museum which houses significant Khoisan collections of artifacts, or the Duggan-Cronin Bantu Gallery which exhibits photographs of African miners from the early 20th century. Or if you feel more adventurous, or you are looking for entertainment in Kimberley South Africa, descend into the big holes around the city which were active mines in the past century. Or if you're not feeling very adventurous you can always pick up a laptop or phone and get your entertainment fix right away and visit the best site for casino games. Plus, bonus codes that will enable you to play without making any deposits with real money and at the same time give you a chance to win big.
Contact The Big Hole Official Site
Just pack and go! Let leave your travel plan to travel experts!
[contact-form-7 404 "Not Found"]